Illustrator allows you to create patterns using vector graphics, which means that the patterns can be scaled to any size without losing quality. This makes it perfect for creating patterns for digital and print use.
You can explore its wide range of tools and features for precise control over the design of your patterns. This allows you to create patterns with intricate details and unique shapes that would be difficult to achieve with other software.
In this guide, I'll show you how to make a pattern in Illustrator. Don't be afraid to make mistakes, your software isn't going to have a breakdown 🙂
How to Make a Pattern in Illustrator
You can make multiple pattern types in Illustrator including art patterns or vector art images. Here are four steps to make a pattern in Illustrator:
Step 1:
First, we need to open Adobe illustrator and create a blank project. Click Create New, or you can go to File > New for the short key win [Ctrl + N] or Mac [Cmd + N].
If you have an existing file, go to File > open and select your File. Short Key windows [Ctrl + O] and Mac [Cmd + O]. You can use drag and drop to import the image or vector that you want to pattern. Just drag your image or vector from your file and drop it in Illustrator.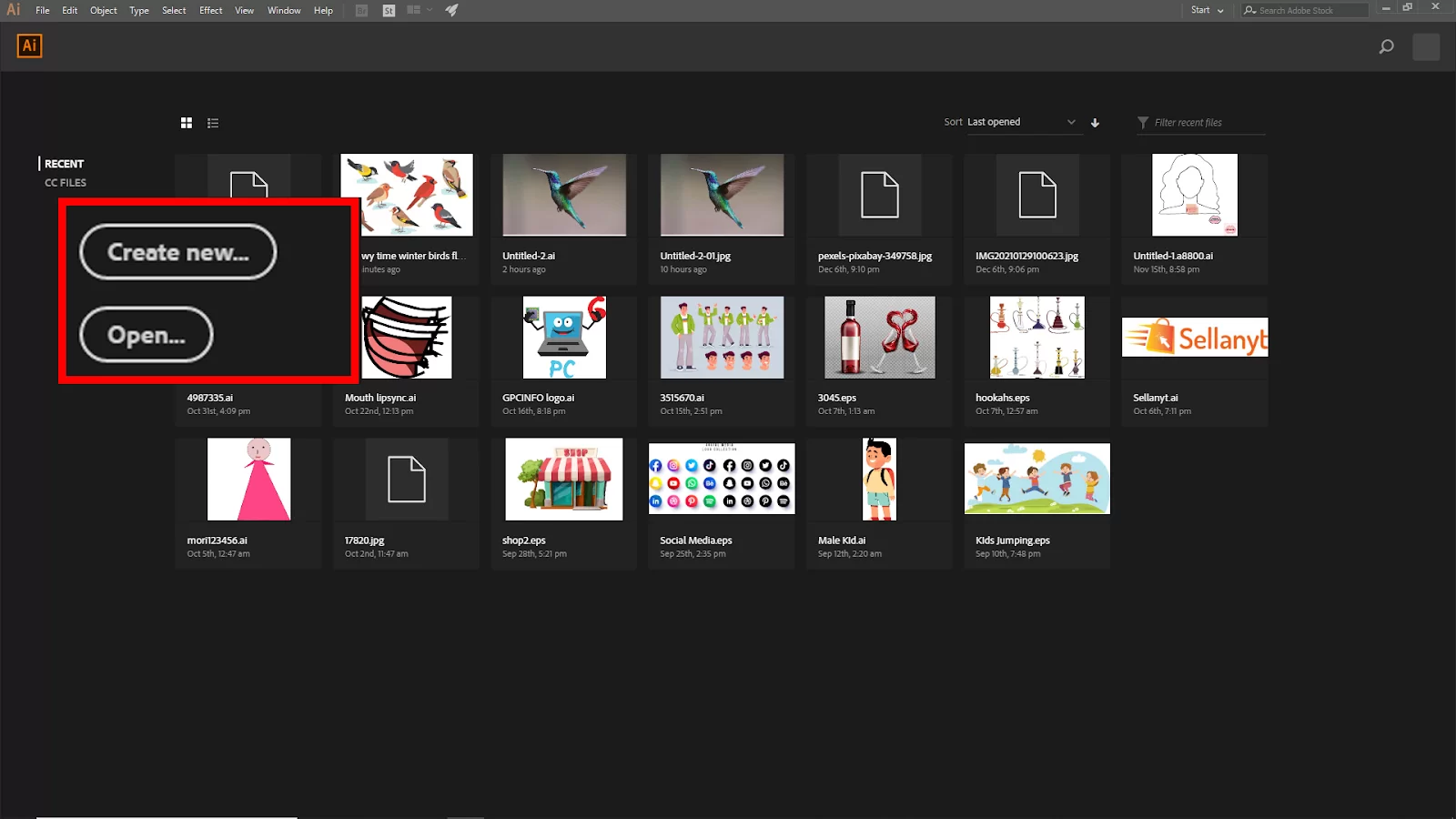 You will see your New Document panel open. Here you'll find the artboard setting. Click Create to create your new artboard.
Or you can go to File > open and select your image or vector. Short Key win [Ctrl + O] and Mac [Cmd + O], Then click Open. Or you can draw a vector in illustrator and make a pattern of this.
Step 2:
Now select the vector or the art that you want to pattern. Go to Object > Pattern > Make. Your pattern is ready to customize, and two panels will open.
One is the pattern option, and the other is the swatches.
Step 3:
On the pattern option panel, you will see Tile Type. Click the drop-down arrow, and you will see 5 types of tiles. Select your desired one. By default, it selects Grid tiles.
After selecting your tile, you can move your vector object to precisely your pattern. Or leave it by default pattern. In the pattern option panel, you can also select your pattern copies.
Step 4:
Now all you have to do is save the pattern. To keep it, go to the upper bar and click on done.
To use this pattern, you will find it on swatches. Now select the rectangle tool to create a rectangle shape or any shape you want to create and apply the pattern.
Select the rectangle to go to swatches and click on your pattern. Your pattern should be applied to your rectangle or the particular shape you created.
What Makes a Good Illustrator Pattern?
For a pattern to work, that are a couple of factors that you need to know.
A Good Pattern Should Be Seamless
Making a pattern appear seamless, or have a smooth overall transition throughout its full surface without any observable breaks between its repeating tiles, is the secret to a successful pattern design.
This can be accomplished by correctly placing your repeating parts on the various tile edges, where they need to be properly dispersed. You need to be sure that the tiles are joined to one another so that there are no white gaps between them. It is also necessary if you're using a background color.
Check out our in-depth article on how also use your illustrator to make background transparent.
You need to pay attention to the overlapping of the shapes or elements that make up the artwork to prevent any design anomalies brought on by inappropriate shape overlapping. The inappropriate shape overlapping will be even more obvious when the tiles are arranged next to one another.
However, this shouldn't be a problem if you're using the Pattern Options panel to handle all you are doing. However, if you're doing it manually, ensure that when you add a certain element to one edge, you add a duplicate copy to the opposite edge. It is important to keep the same distance and trajectory from your reference surface's edges and the original shape.
A Good Pattern Should Have Balance
Once you've confirmed that your Illustrator pattern is seamless, you need to examine the balance of your composition to see whether your design needs to be adjusted.
Each component shape or piece should be designed with the pattern next to it so they will coexist peacefully without seeming to vie for the viewer's attention. This means avoiding making one aspect of your image tiny and placing it next to a large element because the viewer may focus on the larger one and miss the smaller one or vice versa.
Also, if you're using parts of various sizes, be sure to space them out naturally so that when the tile is repeated, a recognizable pattern emerges.
You can also check our step-by-step guide on how to rotate artboard in Illustrator if enjoyed reading this article.