One way to add some personality to your Canva designs is by using custom fonts. Custom fonts are fonts that are not included in the default set of fonts that come with Canva. Custom fonts have lots of benefits but one I've found helpful is time saving.
Custom fonts save me a lot of time during my design process. If you're using a lot of different fonts in your designs, it can be time-consuming to find the perfect font for each design element. By using a set of custom fonts that you've carefully selected, you can streamline your design process and save time.
How to Upload Fonts to Canva?
Open Canva https://www.canva.com/ and create a design.
Write a text. I want to apply a font that is Book Antiqua, but that font is not available on Canva.
First, download that font from any free website that can be used for personal and commercial use. I'm using https://freefontsfamily.com/ this site for downloading the font Book Antiqua.
Scroll down the page and click on Download. Your download will start.
Open File Explorer and Click Download option. Now you will see the zip file of your font. Do the right click and Click on Extract to Book Antiqua. A new folder will be readily named Book Antiqua.
Open the file, and you will have the font file in TTF format, which you can easily add to your Canva.
Now open Canva. Click on Text, then click on Edit, which is written right to the Untitled Brand kit.
A dialog box appears. Click on Uploaded fonts.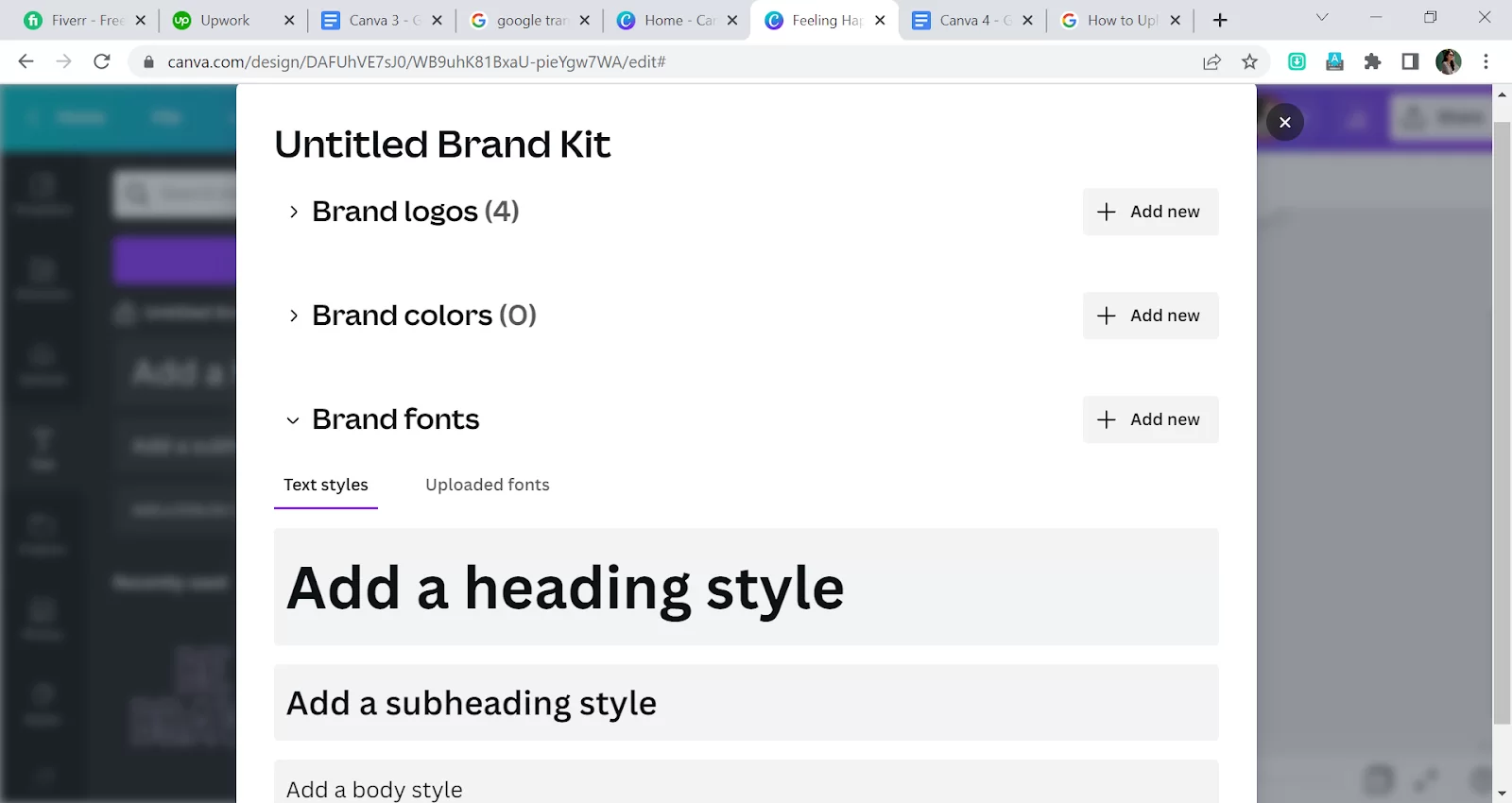 And then uploaded a font.
Click on Font Folder.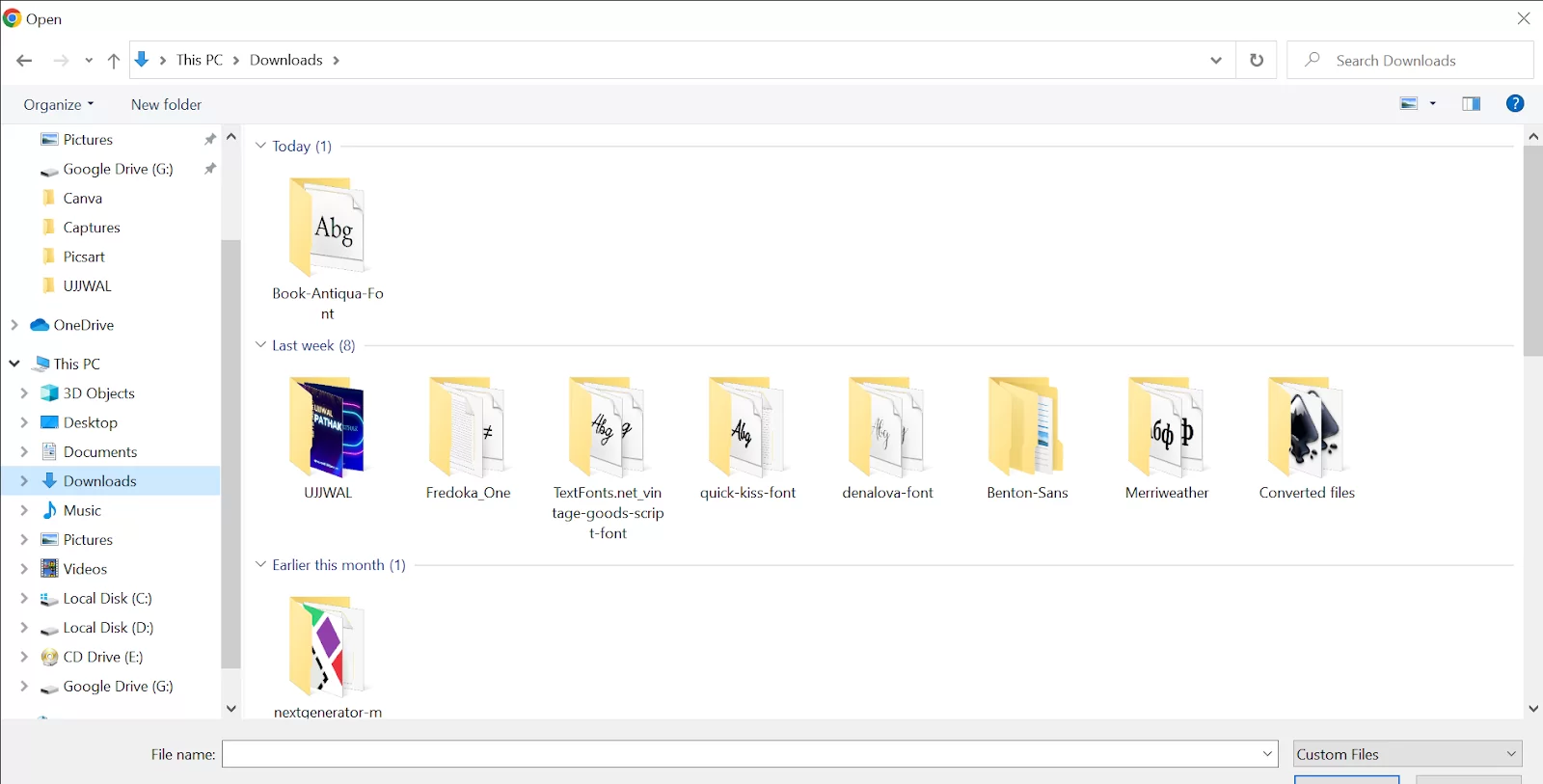 Select your font, which is in TTF format.
Then click on Yes to confirm. Now your font is added.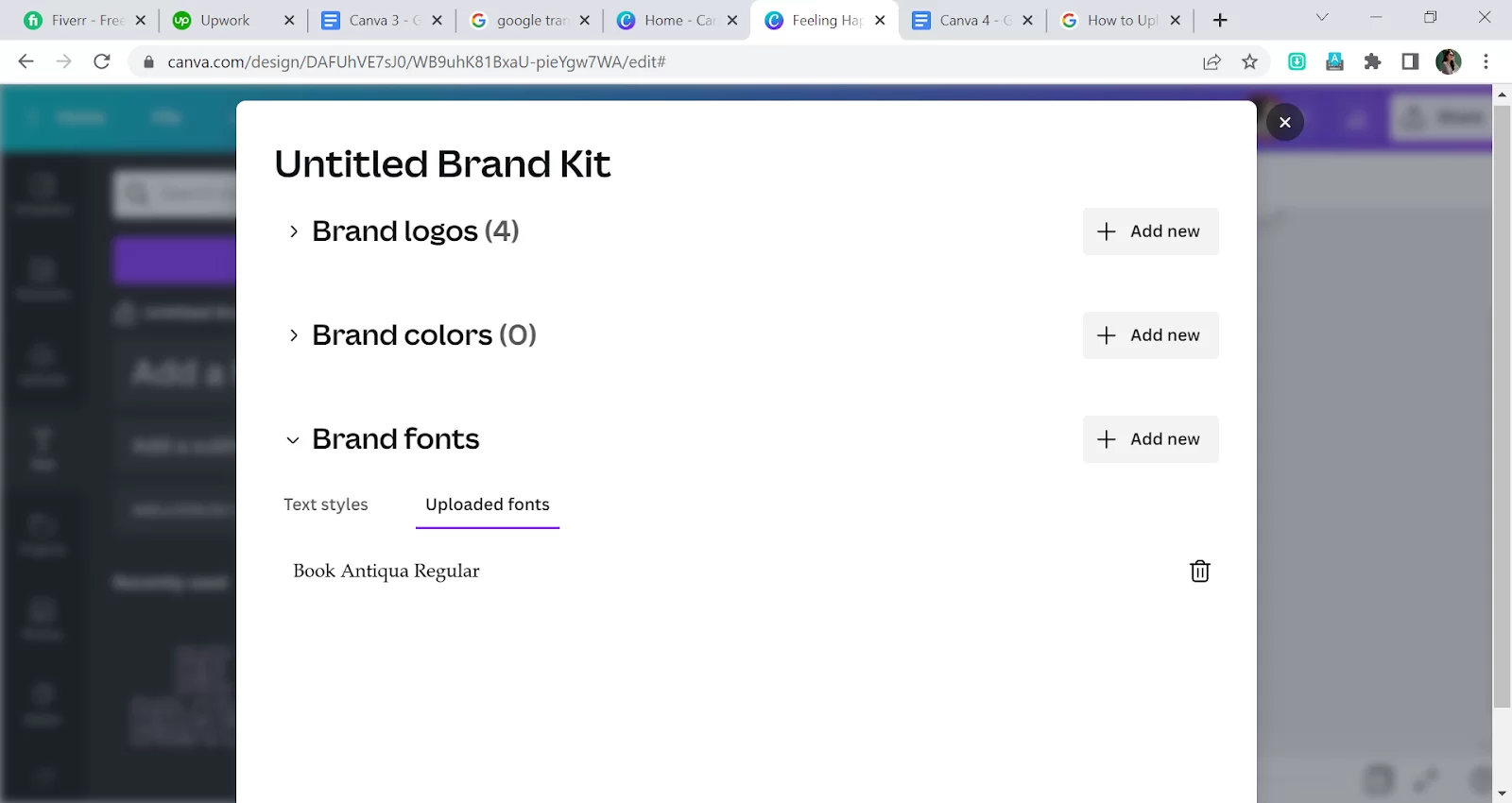 Write a Text and search for the font that you have just downloaded.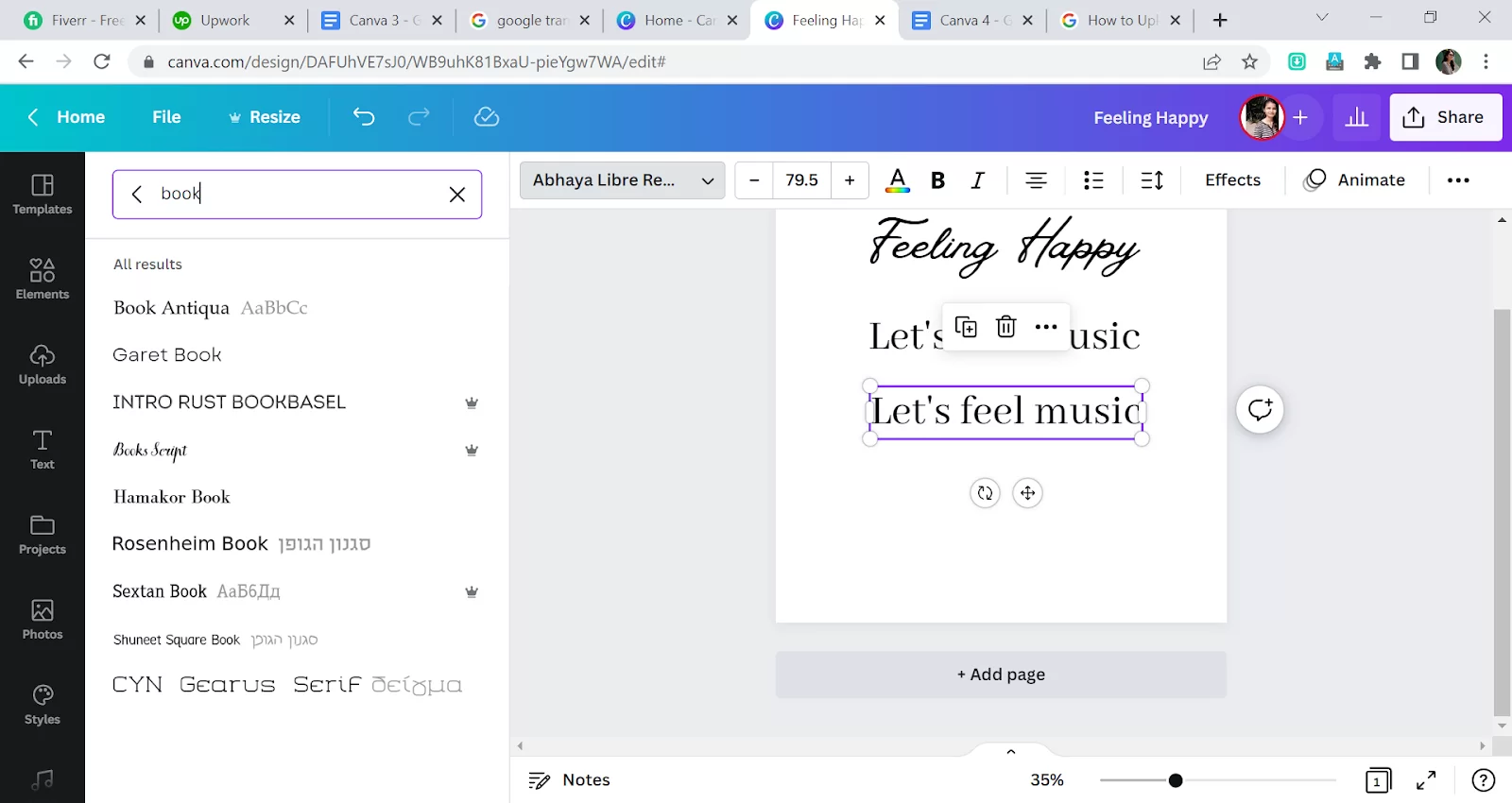 See your font here on Canva font, and click on the font to apply it to the text.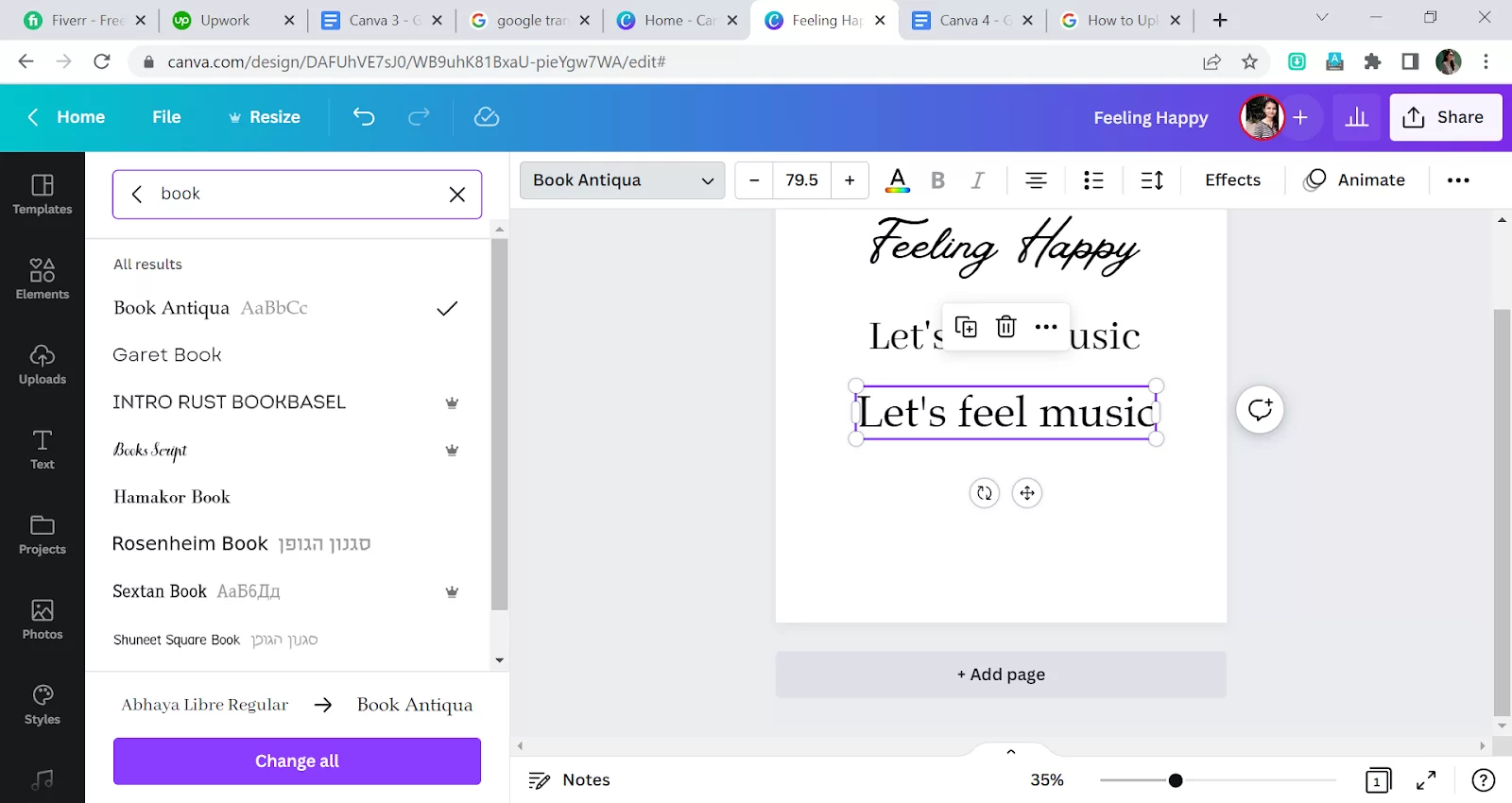 That's how you upload or install a font in Canva.
Where To Get Fonts To Add in Canva
You can get fonts to add to your Canva software in a few places. I'll explain a few of them below.
A fantastic place to find fonts for your Canva creations is Google Fonts. Follow the steps below to find fonts for your Canva using Google.
Step 1
Visit the Google Fonts page.
Step 2
Use the categories and options when you access the website to focus your search.
Step 3
Once you select a typeface, a tiny black box with the text 1 Family Selected will appear at the bottom of your screen.
Step 4
Select Download from the menu.
Step 5
You can download your typeface in Zip format. It will simply need to be unzipped before being uploaded to Canva.
An excellent place to find the fonts you want is Creative Market. The process of downloading the typefaces you need is also quite straightforward. Before you read any further, sharpen your Canva editing skills by reading our article on how to group in Canva.
Step 1
Visit the webpage for Creative Market.
Step 2
Register an account or log in.
Step 3
Choose a font.
Step 4
Select the download icon. If your project is one you want to print, then you need to learn how to print from Canva.
Uploading Fonts in Canva Using Mobile
Follow the steps below to upload your fonts in Canva using mobile.
Step 1
Start by opening canva in a new tab in your browser.
Step 2
From the sidebar on the webpage, choose Brand Kit. Next, put your business name in the sidebar and choose Brand Kits. Pick which Brand Kit to personalize if you have more than one.
Step 3
Click Upload a Font under Brand Fonts.
Step 4
Select the font you want to upload, then select Open.
Step 5
When using the font, you will be asked to verify that you have the necessary licenses or permits. When you're ready, click yes, upload away! To confirm.
Step 6
Watch for the upload to be completed. Upon successful completion, a pop-up notification will appear.
There are a few options for installing a font on your mobile device. You can download a font to your PC and then move the file to your mobile device. This can be done using a USB cord, Bluetooth, or Wi-Fi.
A font-containing app can also be downloaded from the Google Play Store. Just be mindful of the font specifications. Alternatively, you can use your mobile device's web browser to access Creative Market or Google Fonts.
We also recommend that you see our step-by-step guide on how to remove background in Canva.